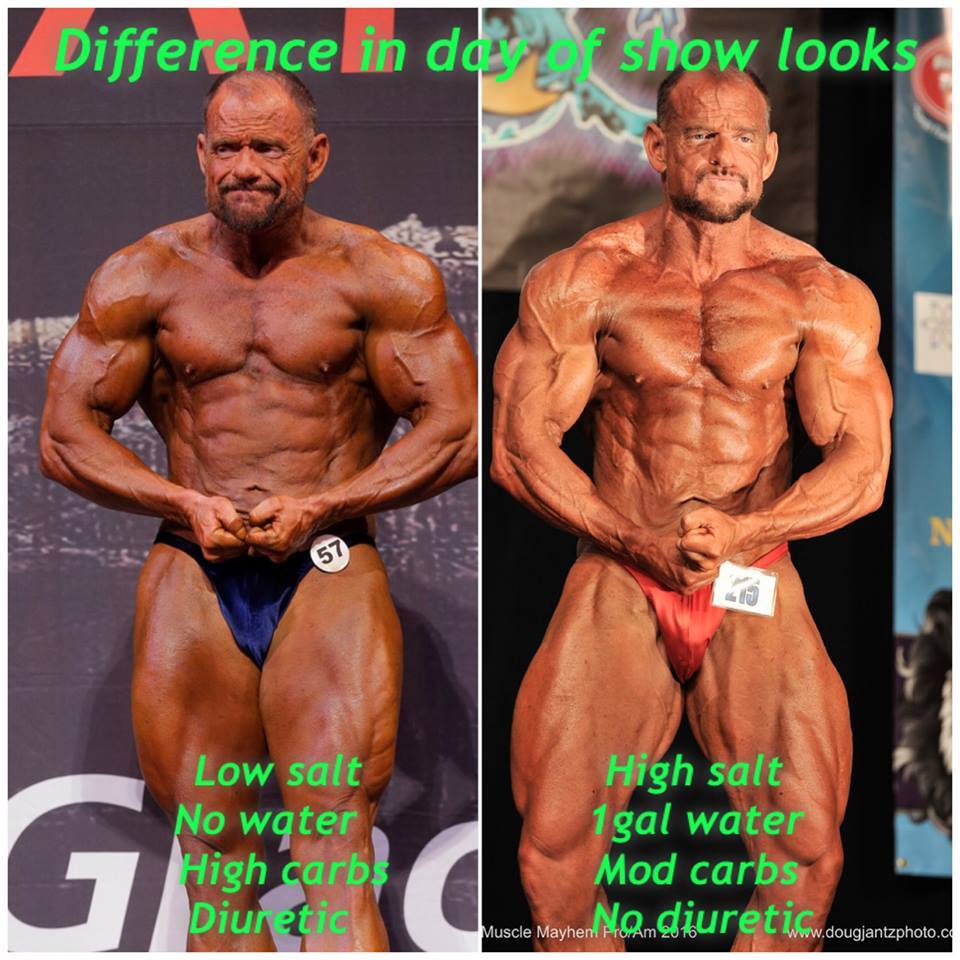 THE TALE OF TWO DIFFERENT PEAK WEEK
PROTOCOLS 4 WEEKS APART
With a lot of people starting to get ready to hit the stage I want to post about a topic I really started to open up more and more about the last few years- Peak Week. There is so much misinformation out there, lets clear some of that up. I posted this last year and a lot of people gave good feedback, so I am posting it again now.
I want to show a great visual picture of the difference that a peak week can make, most notably the difference certain day of show protocols can make. So many things are often done wrong and I want to highlight just how simple things really can be, because lets face it most people are very scared of water, carbs, and salt. I have been there, I remember very well. Being scared led me to do things that actually backfired almost every time, and I want to help you not have to worry about that.
This is a client from last year, Ed. The pic on the left is from a show in May (working with previous coach) and the pic on the right is us working together for 4 weeks and peaking for the Mayhem in June. He won his Masters classes in both shows, but looking at the pics you can see a very drastic difference in his look on two totally different protocols. Lets get into the differences.
On the left, Ed had high water most of the week, then cut it off for the day of the show down to barely any water intake. His salt also dropped down very low at the end of the week, while he ate plenty of carbs day of show to carb up. The problem here is cutting water makes you go flat, the muscle is mostly water and cutting it makes it deflate. (see his chest and shoulders on the left compared to the right). Cutting sodium way down actually flattens the physique out as well. Ever tried to get a pump backstage and nothing happens? Yup, that's what happens when cutting out an electrolyte that is responsible for contractions in the muscle and also cell swelling. Ed also took a diuretic, another thing that flattens everyone out no matter who you are. I dont care if it's potassium sparing, it still pulls water and will never pull water from just the skin, it pulls it from EVERYWHERE. So now Ed had 3 big things hitting that flattened him out- no water, low/no salt, and a diuretic. When you are this flat, and not having water the day of show, you also will not get any vascularity, notice the difference in pics.
Now comes the part a lot of people dont realize isnt going to work. He ate plenty of carbs to "carb up" on the day of the show, but without water and salt those just arent going to store as glycogen in the muscle. (carbs need water to store, but also sodium so the sodium/glucose transporter works efficiently to store them). Now there is a bunch of food sitting in his stomach not storing and def not fast enough for the day of show. "But John what about the water in the body wont it pull water to store in the muscle with the carbs?" – yes it will, but there's only so much it's going to use and your body is designed to survive not fill out for a show, water isnt going to be pulled from important places in the body to move carbs into a muscle. BUT, did you know carbs will store in the fat cell without water? Yes, it's true, most people didnt know that and I didnt either when I used to employ these methods.
So here's what I had Ed do that is very simple and will work for everyone reading. Ed kept his sodium constant all week. Never dropped it, and actually upped it slightly before taking the stage to help him get a pump. Ed kept his water at 1.5 gals all week, and the day of the show he had 1/2 gal by predjudging and a gallon by the time he hit the night show. Water doesnt make you hold water under the skin, TOO MANY CARBS MAKES YOU HOLD WATER. When you eat too many carbs they hold water to get processed, so CARBS are the culprit not water, dont over eat them day of show.
So knowing this, Ed had moderate carbs at 6 meals all day nothing drastic just normal carb amounts his body was used to and that we know from prior pics he wouldnt hold water from. Most people can just do their training day diet meals honestly and I have a lot of clients do that day of the show.
You also will see Ed didnt use a diuretic either on the right, I almost NEVER recommend a diuretic with someone and havent in years, tho there will be some very specific situations where it's needed but it's almost never ideal.
Long story short, you can see by the pics on the right Ed is fuller, and more vascular and also appears leaner on the right. By having water remain close to the same, salt the same all week then slightly higher around pump up, only normal amounts of carbs day of show, and no diuretic, you wont have to worry about being flat or not looking your best.