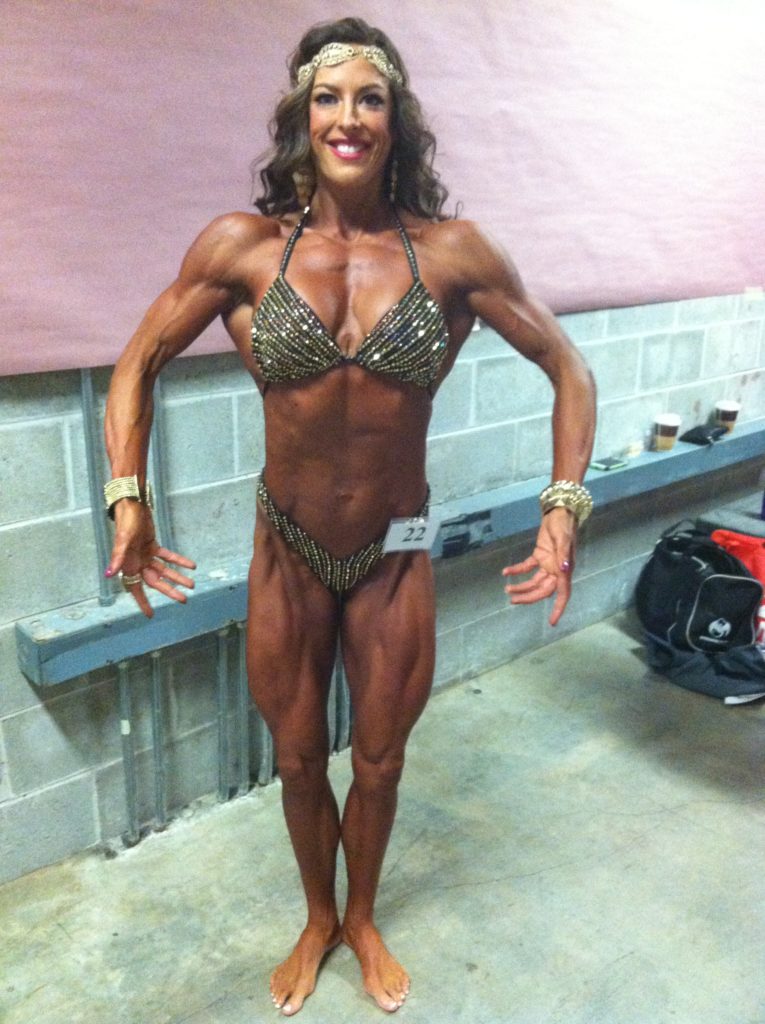 Natural Pro Stephanie Casella- One of the leanest Pro's in the sport.  A lot of girls try and match her conditioning and lose their best look trying to get this lean.
LADIES- ARE YOU TRYING TO GET TOO LEAN WHEN YOU STEP ON STAGE AND LOSING YOUR BEST LOOK?
Too lean….that's not something that's possible right? Actually, it's def possible and I see it year in and year out. It's also something as a coach I am VERY aware of and take into account that I make sure not to try and push a female client past the point to where their physique doesnt look as good. I think this is something all females should be looking for, and coaches as well. Let me explain.
One of the leanest female figure pro's I have ever worked with is Stephanie Casella. She is well known for being the most conditioned female Pro in the shows she enters and a lot of times it forces her competition to try and match her conditioning. Here's the thing, most females that try and reach that insane conditioning lose their best look in the process by losing muscle and roundness. There's a number of reasons for this.
The first thing to know is that when you get really really lean, your ability to lose muscle is MUCH greater than when you have a bit of fat on you. I mean, you dont have much FAT to use as energy when in a deficit or doing cardio, etc. So the leaner you get muscle loss is going to happen easier, AND when trying to go from great stage conditioning to INSANE stage conditioning muscle loss is going to happen FOR SURE at a much greater rate. This can lead to some females looking GREAT at 125 lbs for example- stage ready for figure, conditioning is on point, muscles are round and pop, etc and then not as good at 120 lbs with an over-dieted, flat, smaller physique that doesnt pop due to fast muscle loss at the end.
I have had clients compete against Steph, and I do NOT try and have them match her conditioning, I have them diet down to their best look possible because there is a fine line that can easily be crossed at the very end when someone gets lean. Remember, conditioning doesnt always win shows, the TOTAL look does so your best blend of conditioning, muscle size, symmetry, posing etc should be what you are looking to bring. I have seen it a lot when trying to push that extra mile at the very end symmetry and size are thrown off, and honestly conditioning doesnt improve much because muscles are just tied and over-dieted leading to a slightly softer smaller look at times. So many different ways I can talk about this but I think you are seeing my point.
Are there ways to beat Steph? Of course there is, everyone can be beat but hardly anyone is going to beat her on conditioning. It's part of being self-aware of where your body will go and where you look your best. Just because someone cant match her conditioning doesnt mean they have failed or not as good, dont think that from my post. I could easily make a post about size and insane muscle fullness about another athlete and talk about how people mess up trying to come in "too full" and arent lean enough.
I have tried to diet some females there and their cortisol is just through the roof and they lose scale weight but just dont look as good, it's super common actually to go from looking great to going backwards. Ive learned to watch for this closely as a coach and start to explain it to clients when I see it.
Know your strengths, and show up with that in mind. I am not saying anyone shouldnt be show lean, I am saying each female reading this has their own show conditioning they need to strive for where they look their best, that should be every female athletes outlook.